A Reiki treatment helps restore the natural balance and supports the body's ability to heal itself. The patient empowers energy levels releasing mental and emotional blockages making her or him aware of its own inner process and connecting with its inner being. It enhances self-confidence levels, changes mental attitudes and dissolves negative beliefs and could help in the grieving process.
What to expect during a Reiki treatment
A Reiki session lasts between an hour and an hour and a quarter. The patient is fully clothed during the session, it can remove its shoes if they find them more comfortable but is not necessary.
During a Reiki therapy session, a patient typically lies down on a massage table. I place my hands over (or directly on top of) the patient's body very gentle in various positions, starting at the crown of the head and continuing doing the front and back of the body.
The patient can experiment with different sensations such as heat, tingling or a bit of coolness or maybe don't experience the sensations mentioned but go into a deep state of relaxation and fell asleep. Even that, patients will still receive all of the benefits of the session, sleeping or awake.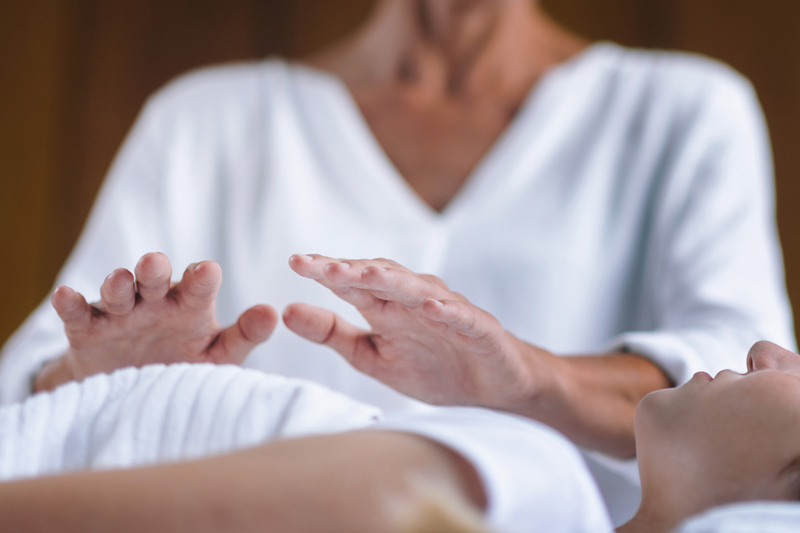 Get a Reiki treatment to…
Boost the Immune System
Empower Energy Levels
Develop awareness
Increase creativity
Release emotions
Relax tensions
Act on the causes of the disease
Heal the whole being
DISTANCE REIKI SESSIONS ARE AVAILABLE
I offer Reiki services online. Online sessions have been shown to provide the same benefits as the traditional face to face method of Reiki and as such there are many reasons you might decide that online sessions are a better option for you.
Online sessions are accessible to those who cannot attend a face to face therapy. This could be an option for you if you have restricted mobility or if you live in an area where it is difficult to access Reiki services and it allows the therapeutic relationship to continue even if you need to move away or while you are on holiday or indeed in the present climate of Covid-19 if there is a need to isolate at home.
This online service provides the opportunity to be in control of where your Reiki takes place and often provides a higher level of comfort and familiarity. I work to the same standards of confidentiality and I provide a safe virtual space for you to be able to feel protected and relax when receiving the energy.
COVID-19: Following the guidelines from the Government all clients will be required to complete a Pre Treatment Screening check and a Consent Form before the session.