During this year I have been very excited about discovering the beneficial effects that sound can cause in our mind, our body, our cells … It is amazing how we can increase our frequency and free ourselves from the limitations we have created.
Energy calls for energy, so an excellent professional arrives at me with more than 9 years of experience in sound, Gema Jaramillo, Vibrational Therapist. And I had no doubt, I decided to take the Vibrational Therapist course with her and that was an amazing experience …
I have included this technique of sound vibration in some of my therapies and I have to say the results are excellent.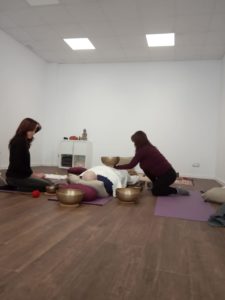 The vibration of the sound in the body can help to recover the vital energy flow, restoring the physical, mental and emotional balance of the person.
Mini sessions starting in January for the ones that want to try the power of the sound vibration… Do you want an original idea for a Christmas present? Here you have one 🙂